Face-to-face training with me in my private studio!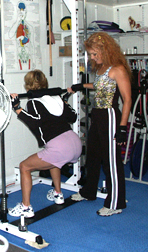 Do you live near Gibsonia, PA? That's in the North Hills of Pittsburgh, PA. If you do, you can train one-on-one or in small group settings with a Master Trainer. You'll learn exercises hands-on with one of the best in the industry. Right in your own backyard.
Would you like a trainer that does more than just stand there and count?
How about a trainer that other trainers have learned from?
Did you know that most trainers in this area are charging $50-$100 per hour?
What if you could have all of this at a price that you can afford?
Well, you can. At Hitek Training, I've got a package that fits any lifestyle and will fit into your budget.

My classes include both private lessons (where you are my only student) and small groups (where there are up to five other students in the studio with you).
Let's talk about the Group Training Classes first.
When I first became a trainer, I quickly realized that not everyone could afford private lessons. So I had to come up with a way to make it affordable for everyone to be able to work with a pro. I came up with Group Personal Training classes.
I put up to six people in my studio at one time, and they share me as their trainer for the hour. It's fun, it's social, and it's very motivating! The group classes are currently for Yoga, cardio and aerobic training, or weight-lifting and strength training.
When you first join a group weight-lifting and strength training class, you'll be working on program #1. After seven or eight classes, you'll move on to program #2. And so on and so forth. It's called muscle confusion. Just when you start thinking that you've got your program all figured out, I'll change it!
So, the other students in your class probably won't be working on the same program as you. Some of them may be on program #47 or #48 because they have been training with me for years. That's kind of fun because you'll have the advantage of getting a sneak preview of what you'll be able to do later on when you reach those higher training levels! I always include lots of core training (some are Pilates exercises) and stretching (some are Yoga stretches) into every class to give you a well-rounded circuit-training class no matter what your level!

As I mentioned before, my Group Training Classes are either focused on strength and weight-training, yoga, or interval equipment-based cardio and aerobic training.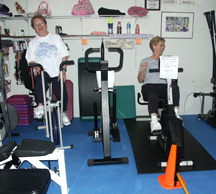 You may be asking: What's that? Interval equipment-based cardio and aerobics?
That's not the kind of cardio where a bunch of people try to kill themselves by jumping around as hard and as fast as they can. It's the kind where you work within a calculated training zone -- one that's safe for your heart. Your training zone will be different than the guy or gal standing next to you. Everyone trains at a rate that's best for their body. You'll be able to burn fat while still protecting the muscles and organs from damage that can occur otherwise.
And my Yoga classes are designed the same way -- to allow you to train at your own level! My classes have students of all levels in them. So if you've never taken Yoga before and have always wanted to try it, why not try it with someone who's as concerned about your safety as you are?
Now let's talk about Private Lessons.
Although my group training classes are very popular, they're not for everyone. If you need more attention than can be afforded you in a group setting, then private classes are for you.
Some examples may be:
Health issues -- Where you just aren't physically able to keep up within a group environment.
Specificity -- Where you want to train for an event or special sport.
You want your own program -- My group classes are based on pre-written circuit-training programs. This means that I do not write a program just for you there. In the group classes, you will start with program #1, and then move on to #2, etc. If you want your own program, tailored to your own body and goals, then private lessons are for you! Just like my online programs, in private lessons you will get a program that's written just for you.
Timing -- You can't get to the appointed times for the group classes so you'll need to train at different times with me privately.
Location -- You live too far away and can only come once in a while to the studio for face-to-face training. A combination of online training and occasional private lessons will work for you.
You have your own gym, or a membership to a public gym -- Private lessons with me will teach you how to train safely and effectively no matter where you want to train. Working with a trainer is personalized learning -- face-to-face instruction on effective training form, safe movements for your particular body, and expert knowledge of what intensity level is the right one for you. It is different than joining group exercise classes or public gyms where the goal is to teach the masses. With proper guidance, you can get the most out of the time you are putting into your workouts, no matter where you do them!
Some of my private students don't want custom programs. They just want to come into my studio and get an effective, safe and guided workout. Their goal is general health and fitness. Or maintenance -- they have achieved their training goals with me and are looking to hold onto their results! These students are looking for overall circuit-style training where no custom program design is needed, so they are purchasing class time only.
Other private students want a program that is written just for them. One that will take them to a specific goal. Whatever your needs, Hitek Training can help you reach your goals!
I also offer Health and Fitness Assessment Sessions.
These are private one-on-one sessions where I measure and test your body to determine your current level of health and fitness. If you're not sure which kind of classes you should be taking, this is a great way to find out!
I recommend that all of my students -- group or private -- periodically take an Assessment Session anyway. It's the perfect way to track your progress! You'll see the results of your training right there in front of you in black and white. Positive proof that what you're doing is working!
And don't forget that I now have Personal Nutrition Programs available online that will work with your face-to-face training here in the studio! If you're already training with me, now's the time to add nutrition, diet, meal planning and weight control to your exercise!
You might find that a combination of online training and face-to-face training works best for you!
Maybe it fits your lifestyle to train at home sometimes, and with me sometimes. Whatever works for you is OK with me! Because you'll still be getting the same kind of training, whichever method or combination of methods you choose to use. Personalized, tailored-to-you programs with me, Karen Hite, your personal trainer.
You're serious about losing those extra pounds, aren't you?
You know that nutrition is married to exercise, right? That you need to be doing them both?

You guys and gals who are already training with me -- you trust me with your body, don't you? Then let's go. Let's get started. Add a nutrition program to your workouts and get your perfect body.
And if you're not one of my students yet, I've got a program that will get you started right away! No matter what your training goals are, what your diet is like, or what kind of lifestyle you have -- there's a better body waiting just for you!